Welcome to Miss Leeper's Home Page
Grade 3
Room C215
Great Falls Elementary School
---
Please visit this page often, as I will try to keep you informed of the activities in the class and also advise you of events and other information.
The Class links at left will help you navigate through the pages in my website and the other links are important school and district pages.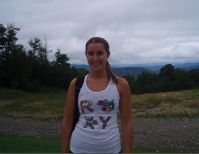 Welcome to Third Grade!
Here is a little bit about me: I grew up in Gorham and have always had pets while growing up. I have two dogs, a cat, and a horse- that I have owned for 10 years! I am a graduate of Gorham High School and the University of Southern Maine for my Bachelor's degree and Master's degree. I have experience with elementary learners, from working with preschool aged children to fourth grade. I enjoy the curiosities and love of learning that young students bring to the classroom. I taught first grade at Great Falls for one year, and taught third grade last year, and am excited to begin my second year teaching third grade at Great Falls!
We have a new member of our class! We got a Betta fish, and the students have named him Bubbles!
Our Schedule:
Lunch/Recess: 12:00-12:45
Specials:
Monday

Tuesday

Wednesday

Thursday

Friday

Music

P.E.

(bring sneakers!)

Art

Library/Media

No Special




10:55-11:40






10:55-11:40




10:55-11:40




10:55-11:40



This brochure will remind you of all the topics we will be covering this year!
Grade 3 Curriculum Content Brochure:
Grade 3 Everyday Math Games/Activities by Unit (Great for practice at home!)
Search for books just right for you!